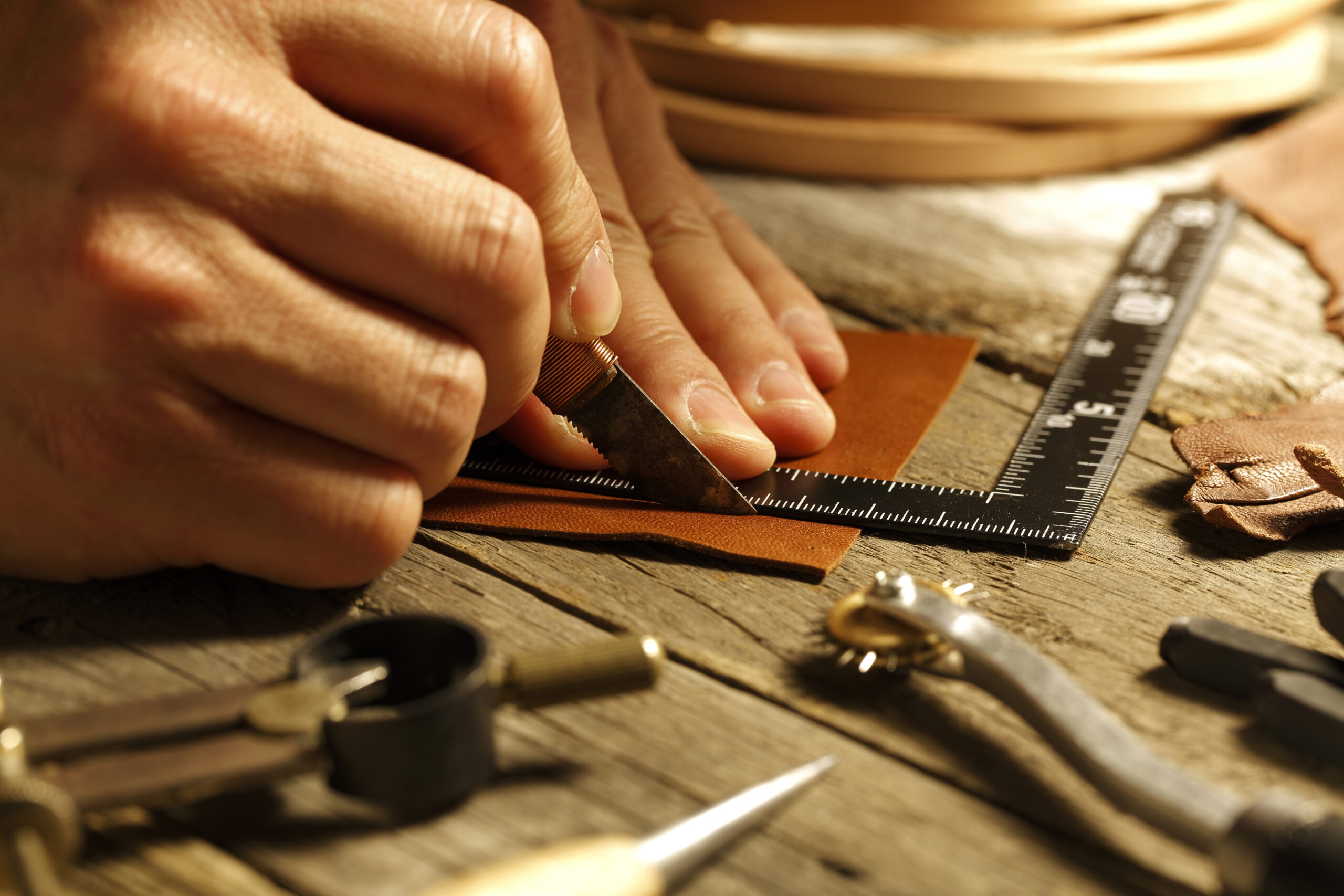 What is the Amazon Handmade Catalog?
The Amazon Handmade catalog is different from the regular Amazon Marketplace catalog, as it is a separate catalog for selling only handcrafted items by artisans. Amazon Handmade is built into Amazon.com, but there is a separate shopping drop-down for Handmade items. Within Handmade shopping, there are different categories for different products you can shop for.
Is my company suitable for Amazon Handmade?
If you are new to selling on Amazon and want to sell on Handmade, you will need to apply to sell on Amazon Handmade specifically, as there is a separate application process. If you already sell items on the Amazon Marketplace but want to start selling additionally on Handmade, you will still have to go through the application process and create new listings. It's not as simple as just checking a box on your current listings.
The eligibility is as follows:
Products must be designed and produced by you

Production may involve hand tools or light machinery if necessary, but production on mass assembly lines or automation technology is not allowed. For the most part, it needs to be made by you

There can be no outsourcing of product production

There can be no drop shipping of products

There can be no reselling of products by third parties

There can be no downloadable products, food items or electronics on Handmade
You'll need to apply for the Handmade catalog and provide information and pictures to show your product is in fact handmade. This is called the Maker Application. Amazon will ask a variety of questions to ensure your company meets the Handmade requirements.
If and when you get approved to sell on Amazon Handmade, you'll need to set up your Maker Profile. This is a great place to tell customers exactly how you make your products and showcase images of how your products are made. Please note, the Maker Profile is different from the Brand Store, which is only available once you are Brand Registered.
PDMG TIP: *If you are applying to be Brand Registered in Handmade, be sure the brand name you have listed under your Maker Profile matches the brand name you use for Brand Registry. In Handmade, there is no section to list your brand name in the backend of listings, so you need to name it correctly in your Maker Profile.
What do the Fees look like for Selling on Amazon Handmade?
If your company is approved to sell on Amazon Handmade, the professional selling plan fee is waived, and there is no per-item sale fee. There are no transaction fees or processing fees. Handmade will deduct a referral fee, which will either be a flat percentage of your total sale or a per-item minimum fee, whichever is greater.
The referral fee percentage is 15% for all categories, and the minimum per item is $1.00. Most products will fall under the 15% flat rate, as that will be the higher fee most of the time. An exception would be an item that only costs $2 because 15% of $2 would only be 30 cents, and then Amazon will bump you to the $1 minimum. So with the exception of extremely low priced items, you will just have to pay the 15% flat percentage of each sale.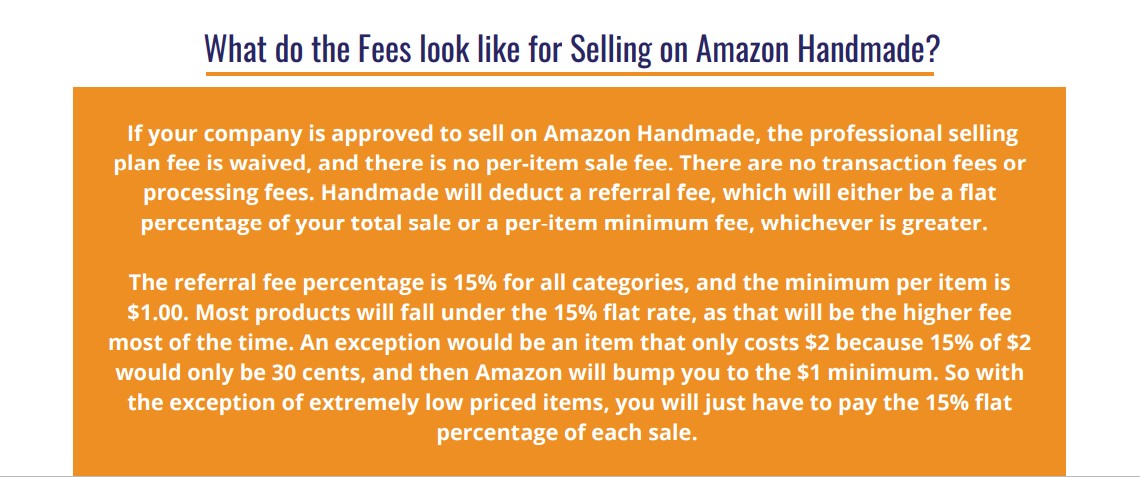 Scope and Selling Categories For Amazon Handmade:
The scope of selling on the Amazon Marketplace is not quite the same as it is in Handmade. With Amazon Handmade, you still get access to the millions of Amazon shoppers, but there are a few specific categories you may sell under. And remember, you cannot sell food, electronics or downloadable products. The following are accepted categories you can sell in Handmade:
Accessories

Artwork

Baby

Beauty & Personal Care

Clothing

Shoes & Handbags

Home

Outdoor & Home Care

Jewelry & Watches

Kitchen & Dining

Pet Supplies

Sporting Goods

Stationery & Party Supplies

Toys & Games
Amazon Handmade with Customizable Listings:
One plus of selling on Amazon Handmade is that you can add customizations to your products if you so choose. Personal customization of products is automatically enabled on the Handmade catalog (It's a different process, and you'll need to register first if you want to do customizations on the regular catalog). This means that in Handmade, you can offer customers the opportunity to customize a product beyond a normal variation (like color variations). Customization is more specific- an example would be adding customer initials to a product. Customization is an advanced experience for customers that provides personalization. A variation is for selling items that are fundamentally the same, for example, a candle in different scents or sizes. You can configure your products in three ways for customization:
A list of options (I.e. a list of fabric options)

Text entry (this is perfect for engraving, adding initials, anything with custom words)

Number entry (perfect for custom dimensions)
*NOTE: You can use all three of these options on the same product if you so choose. It really just depends on how you want your products to be customized.
*NOTE: You cannot ship FBA when selling customizable products. FBA is available on Amazon Handmade, but your customizable products will need to be fulfilled by you.
*NOTE: It's a good idea to create a standard and custom listing for each product, meaning you should create two different ASINS, one standard ASIN and one custom ASIN. It's a good practice to have a backup ready, but this cannot be done by SKU in Handmade, only by the ASIN.
*NOTE: Because you might need to provide instructions for a customizable product, be sure when setting up the listing that those instructions are visible on mobile. You wouldn't want an error simply because the customer couldn't see your instructions for customization.
Handmade Growth and Listing Optimization:
There are certain growth opportunities and ways to optimize listings with Handmade that might be different than the regular catalog. Let's break down what is different and what stays the same.
Optimization: Paying attention to your title and search terms are still of the utmost importance in Handmade, just as they are on the regular catalog. However, note that with Handmade, customers can browse by Occasion Type and Artisan Location. So, if you think your product is specific to a certain occasion, like a wedding, you could check "wedding" under the Occasion Type section of the back of your listing.
Images are very important when it comes to Handmade. Video, however, is a feature that has not been available in the past for Handmade. The video feature is being added soon by Amazon, so if you are Brand Registered, check back on your listings to see if you can add video in the future.
Speaking of Brand Registry, it is absolutely a good idea to get Brand Registered if your company is able. Being Brand Registered allows you to create A+ Content for your brand and build a brand store.
In Handmade, you can still create strong bullet points, product descriptions, and advertising campaigns.
SKUs cannot be renamed in Amazon Handmade. Whatever you name your SKUS the first time is what they will always be. SKUs are set in stone.
Also, Handmade does not support the reformatting of text for its listings.
Variations/Parenting: Amazon Handmade does support variation families for products (like if you sell a shirt that has five different colors), but it is on a category level. You'll need to check the various categories you sell under to see if they allow for a variation to be created. Moreover, Handmade has been making some changes to this feature, so it's a good idea to keep checking back on variation families for your products.
Handmade will still award best-selling products with a "Best Seller" badge, just as the regular Amazon Marketplace would.
There is no "Build International Listings Tool" for Handmade. Handmade items can be sold in Canada, Mexico and Europe, but they will need to be set up manually.
OTHER NOTES:
A UPC is not needed to sell on Amazon Handmade.
Amazon customers expect fast delivery, so if you are new to Amazon, you need to be prepared with your FBM listings to ship quickly or look at FBA.
Amazon still closely monitors your customer feedback, on-time shipments, on-time delivery, and timely response to customer messages (24 hours) on Handmade.
Amazon Handmade has a strict quality control standard, which makes the platform different from other craft marketplaces.
Tips For Success:
First and foremost, use the information above to determine whether or not your products are suitable for Handmade.
File uploads are a great way to ensure any listing changes you make are correct, but note, Handmade does not support file uploads for customizable products and shoes/apparel. Think very carefully about what you sell and if you need to be using file uploads regularly.
Strict rules exist in every category for Handmade, so selling on Handmade doesn't give you the freedom to sell whatever you want, and you still need to adhere to Amazon guidelines.
Selling Handmade doesn't give you free rein over pricing structure, so you'll need to stay relevant with your competitors.
Shopping Handmade may not look that different to an Amazon customer as they browse online, as it's built into the regular platform, but the setup is entirely different for sellers.
AMAZON FBA IN HANDMADE: A PDMG HACK
FBA for Handmade sellers can be a great way to grow your business and provide a better shipping experience for customers. The FBA fee calculator operates the same as the regular catalog, and you can provide your customers with free and faster shipping through FBA.
One issue with Amazon FBA in Handmade is that Handmade does not currently support multiple SKUs for the same ASIN. What does this mean for your business and FBA? This means you cannot have an FBM and FBA SKU under the same ASIN. Typically, it is best practice when shipping FBA to have an FBM backup SKU in case of issues. With Handmade, in order to have a listing have both FBA and FBM, you would need to have two different listings with two different ASINS. This is not a good solution as reviews and BSR history would get lost on the new ASIN, and it could be confusing to look at two ASINS for the same product.
We here at PDMG have come up with a workaround for this issue. Items that are FBM only will remain as such. For items you'd like to send FBA, please follow the steps below.
First time setting up FBA shipments in Handmade:
First, organize which products you'd like to send FBA with their respective quantities and shipment information.
Next, convert the appropriate listings to FBA. Once you have refreshed and see that the listings are now FBA, you can create your shipments.
At this time, before you start building your shipments, convert the SKUs back to FBM, so that you have no down time selling. Now you can begin packing and sending in your inventory to Amazon FBA.
Flipping all the FBA listings back over to FBM is a great strategy that allows you to fulfill orders until the units arrive at the Amazon warehouse.
Keep a very close eye on shipments and track your products, and as soon as the units go into the "receiving" stage at Amazon, flip the products back over to FBA. Some inventory may get stranded if you don't take this step as soon as the units are received.
You can now keep your listings FBA and continue to restock units through FBA. You will not need to flip back and forth any further between FBA and FBM unless you go out of stock in FBA. Try to always keep products in stock, but if you go out of stock, flip over to FBM until you get more quantities to Amazon, and then flip back to FBA.
FBA RESTOCK LIMITS PDMG HACK:
Did you know that inventory restock limits for Amazon get updated weekly, based on FBA sales? If you see space is freed up on your restock limits one week, you should immediately* take advantage and send more inventory while that space is still there (it could disappear). Moreover, if you really want to maximize your inventory space, prioritize replenishment of your top sellers because they should always be selling and continuing to free up your space.
Download the PDF on this topic here. Watch our YouTube video on this topic here.