In an effort to help support the local community of Charleston SC, Palmetto Digital Marketing Group donated $750 to the Hallie Hill Animal Sanctuary. Supporting local non-profits within the Charleston region is a corporate mission.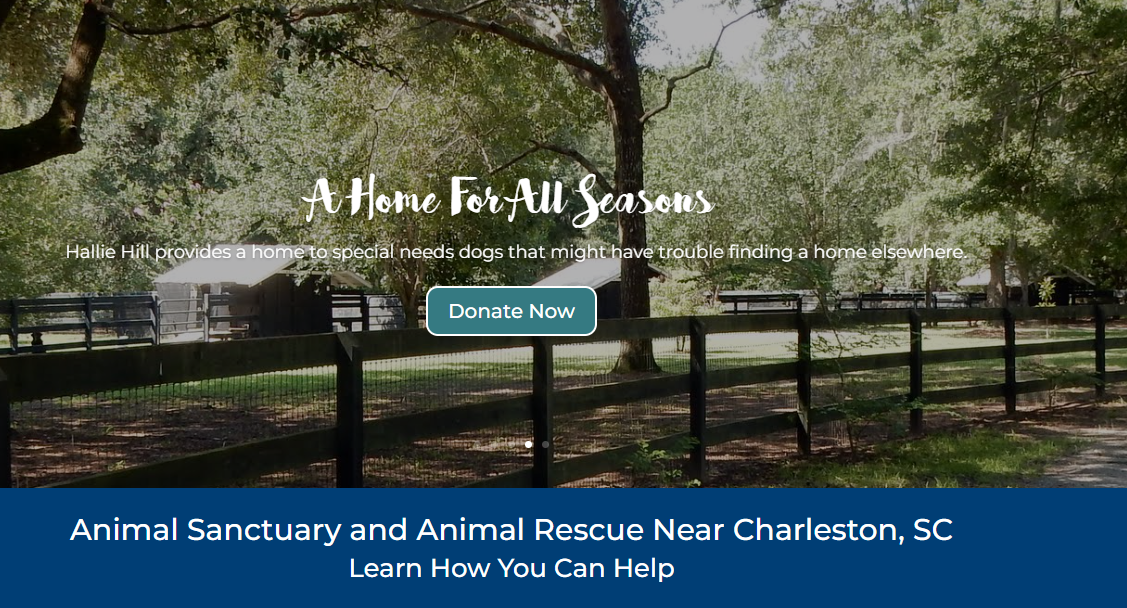 ABOUT HALLIE HILL
Hallie Hill Animal Sanctuary is a 501c3 that provides a safe haven for animals with no other home or shelter. We prepare animals for adoption by providing respite, rehabilitation and socialization. For those animals whose chances of adoption are reduced due to age, medical or emotional issues, Hallie Hill provides a loving Forever Home with the proper shelter, nutrition and medical care. We can't change an animal's past, but we can rewrite their future.
Hallie Hill helps Charleston to achieve the status of a No-Kill Community by working with local shelters and rescues to take in dogs that might not get adopted due to age, medical or behavioral issues.
Why Donate?
Caring for over 200 dogs and cats on a daily basis is a tremendous job. Your donation helps to ensure we can provide the best environment, food, medical care, and enrichment activities for the many animals in our care.
Hallie Hill Animal Sanctuary is more than just a shelter for dogs and cats near Charleston. We are a home for living creatures who in many cases have been through unfortunate and difficult experiences. We rely on donations to help run our organization, and carry on the mission of saving the lives of dogs and cats in our area. Whether you are an individual or a business, donating to Hallie Hill can not only be a good deed, but can also have positive tax benefits.
Benefits of Donating
1. Donations to Hallie Hill deduct from your total income that is taxed, lowering your overall tax bill.
2. It feels good to give to organizations like ours. You can donate knowing you are doing good for the world, and enjoy the positive vibes that go with it.
3. You are helping save the lives of innocent and beautiful animals. These animals many times have no where else to go, and Hallie Hill is their saving grace.
What Donations are Used for
Maintenance & Upkeep of Facilities
Medical procedures, equipment, and supplies
Medications
Heartworm and flea preventative for every animal
Food and nourishment for the animals
Paying our amazing and caring staff
Miscellaneous supplies
So whether you are interested in one time charitable donations, planned giving, donating in memory of a beloved pet or for any other reason please contact us today if you want to talk about donating to Hallie Hill Animal Sanctuary.