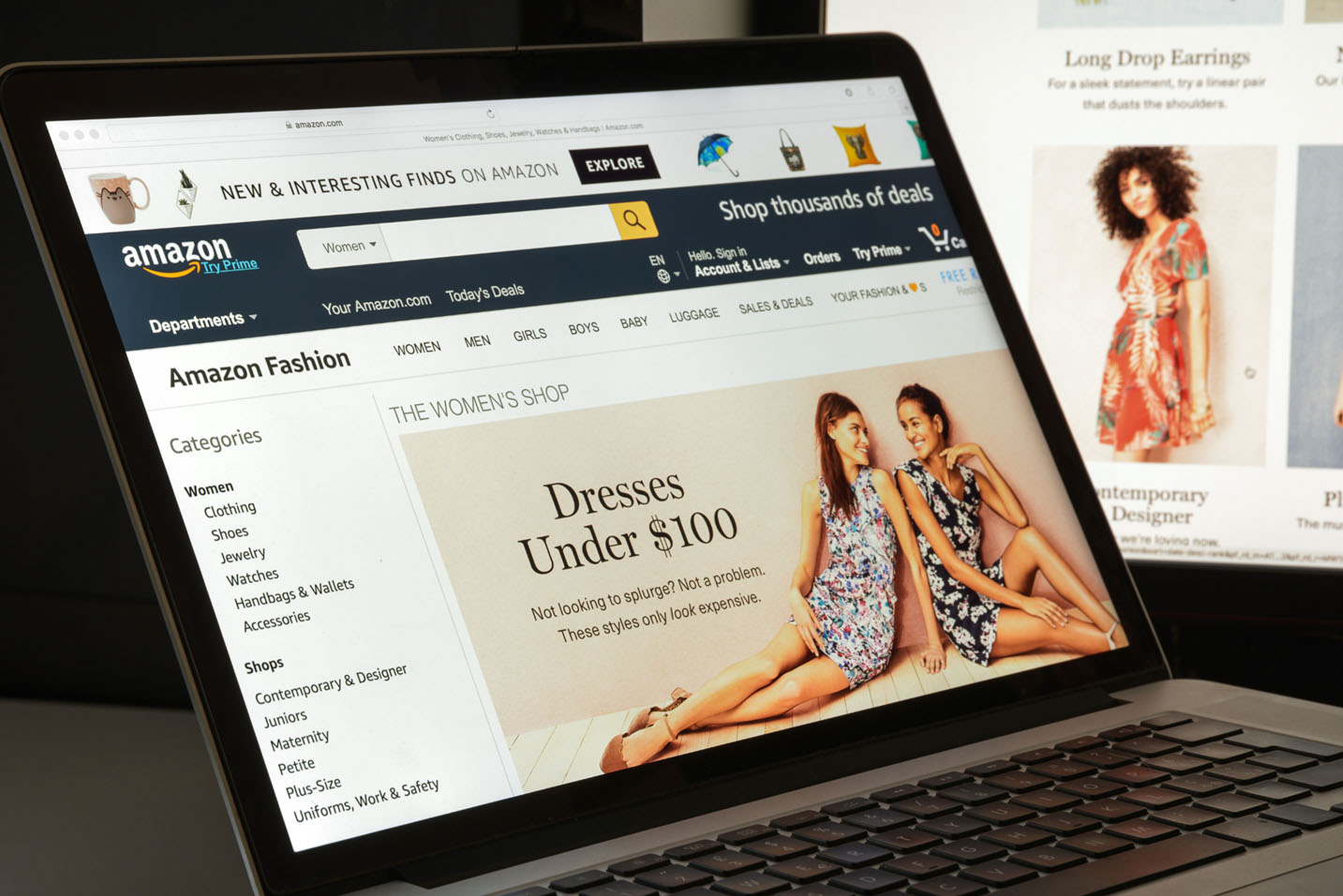 Optimize Your Amazon Brand Store Design for Maximum Profitability
Amazon.com is dominating the ecommerce industry. It is the leading online retailer in the country, with almost $136 billion in 2016 sales and more than 240 million active customers. Imagine placing your product in front of millions of your target consumers using an online shop in the country's biggest ecommerce store. Now you can, thanks to Amazon Stores. Creating an Amazon Brand Store is just step No.1. For real profitability, your store needs professional design help and optimization. That's where we come in.
WHY CREATE AN AMAZON STORE?
Building an Amazon Brand Store helps drive shopper engagement, with a curated destination for customers to not only shop your products but also learn more about your brand. Brand stores also allow Amazon Sellers and Vendors to create brand alignment on and off Amazon. Your Amazon Brand Store can be designed to correlate with your DTC (Direct to Consumer) website. This creates the ultimate brand experience.
OPTIMIZE YOUR AMAZON BRAND STORE FOR MAXIMUM CONVERSIONS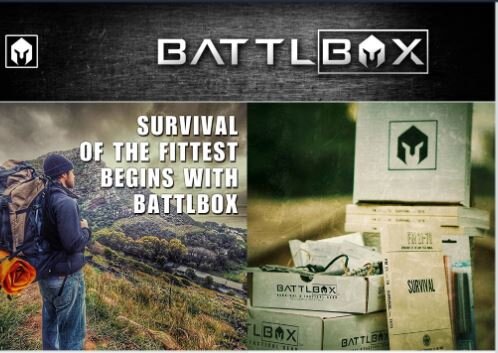 Amazon Brand Stores lets Amazon sellers customize their shops – unlike its predecessor Amazon Brand Pages. You have the freedom to create your store from top to bottom. If you really want to shine, you need to take full advantage of Amazon Brand Stores design flexibility. Amazon Brand Stores come with various design modules. Each module needs optimization.
Here are some of the ways the team at Palmetto Digital Marketing Group achieves this:
Creative, customized design. The ecommerce user experience (UX) is everything. Making your Amazon Brand Store personal is one of the best things you can do for optimal UX. Our team can design your store to take advantage of all the things consumers look for in UX today. For example, 65 percent of consumers are more likely to shop in an online store that knows their purchase history. A personalized brand experience makes all the difference in the success of any ecommerce site.
Use of Templates: Choose from a selection of design templates with varying store layouts and customizable features to best showcase your brand.
Custom curation: Feature a dynamic or handpicked assortment of products along with optional multimedia content to enhance the customer shopping experience.
Integrated promotion: Use built-in social features like social sharing buttons, coupled with promotional extensions such as Sponsored Brand Ads, to drive store awareness and traffic.
Poignant rich media content. One of the best benefits of Amazon Brand Stores is the support for rich media content, including high-quality professional photographs of your products. Adding high-definition images, search-optimized text, and other rich media content can greatly elevate your page, helping you stand out from the competition and decrease your bounce rates. We can add exactly the right rich media content for your site and purposes, helping your store reach the next level.
Amazon category unlocking. To get your products listed in specific Amazon categories (and therefore seen by a specific niche), Amazon must approve your application, this is call Amazon Brand Registry. There are minimum requirements you must achieve to get this approval. Our team can manage this process from beginning to end, helping your store get in front of an even more tailored audience. This is just one of the many ways we optimize Brand Stores for maximum visibility and conversions.
There are dozens of ways you can optimize the design and usability of your Amazon Brand Store. Listing optimization, keyword insertion, A+ and enhanced content, highly customized pages, smart layout, mobile-first design, and data-backed marketing are the tools that will set your shop apart from the crowd. You can unlock the fullest potential of Amazon Brand Stores with help from our talented Amazon specialists.
GOOD, BETTER, BEST: BRINGING YOUR AMAZON BRAND STORE TO THE TOP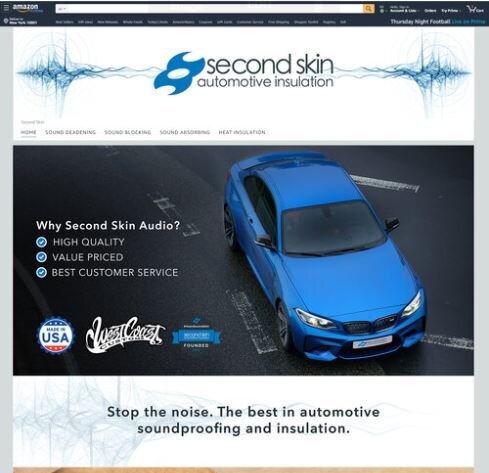 Amazon Brand Stores
Amazon Brand Stores offer great benefits to retailers straight out of the gate. They provide vendors with an enormous consumer base, give customers a unique shopping experience, and feature up to three levels of pages exclusively to showcase your products. The Amazon Store builder tool is easy and intuitive to use, making it simple to create a store. With our help, you can take your store success above and beyond that of your competitors.
Amazon is a behemoth in ecommerce. Brand Stores is one of the world's best opportunities for online third-party vendors. Take full advantage of this opportunity by making sure your store is fully optimized and ready to seal conversions. You can secure outstanding returns on your investment with help from a team of Amazon store experts at your beck and call. Let us help you create the very best Amazon Brand Store possible. Contact us online to request more information about Amazon Brand Store design and optimization.
PROMOTE YOUR STORE ON AND OFF AMAZON
CREATE A MARKETING STRATEGY FOR YOUR STORE TO DRIVE BRAND AWARENESS AND ENGAGEMENT AT SCALE:
Use Sponsored Brand Campaigns (prominent ad placement above relevant search results) to market your store to a qualified audience
Link your store in the brand byline on your product detail pages
Include your unique Amazon vanity store URL on marketing activities off of Amazon.com. You can promote at tradeshows, blogs and media events
Promote your store on your social media networks (built-in social features make it easy for shoppers to share with their social networks as well)
Use Amazon Brand Analytics built-in reporting tools to measure and optimize your store design towards total visitors or views
Contact PDMG today to get a Amazon Brand Store Design quote.
AMAZON SOURCES:
https://www.amazon.com/gp/feature.html?ie=UTF8&docId=1000415451
http://www.cpcstrategy.com/blog/2017/06/amazon-stores
http://www.bobsledmarketing.com/blog/using-amazon-storefronts
https://www.statista.com/topics/846/amazon
3 Reasons why you need an ecommerce personalization strategy in 2017
https://www.accenture.com/t20171031T052156Z__w__/us-en/_acnmedia/PDF-34/Accenture-Pulse-Check-Dive-Key-Findings-Personalized-Experiences.pdf#zoom=50
AMAZON BRAND STORE CREATION AND DESIGN: CHARLESTON SC, NORTH CHARLESTON SC, MYRTLE BEACH SC, COLUMBIA SC, CHARLOTTE NC, JACKSONVILLE FL, ATLANTA GA, RALEIGH NC, ATHENS GA, TAMPA FL, ORLANDO FL, BIRMINGHAM AL, RICHMOND VA, WASHINGTON DC, ASHEVILLE NC, GREENVILLE SC & SAVANNAH GA, NEW YORK CITY, BOSTON MA, PHILADELPHIA PA, WASHINGTON DC, CHICAGO IL, NEW ORLEANS LA, DENVER CO, AUSTIN TX, DALLAS TX, HOUSTON TX, SALT LAKE CITY UT, SAN DIEGO CA, LOS ANGELES CA, SAN FRANCISCO, CA, PORTLAND OR, SEATTLE WA, MIAMI FL, SAN ANTONIO TX, PHOENIX AZ, BALTIMORE MD, CLEVELAND OH, COLUMBUS OH,
AMAZON STORE CREATION AND DESIGN : ALABAMA, ALASKA,ARIZONA, ARKANSAS, CALIFORNIA, COLORADO, CONNECTICUT, DELAWARE, FLORIDA, GEORGIA, HAWAII, IDAHO, ILLINOIS, INDIANA, IOWA, KANSAS, KENTUCKY, LOUISIANA, MAINE, MARYLAND, MASSACHUSETTS, MICHIGAN, MINNESOTA, MISSISSIPPI, MISSOURI, MONTANA, NEBRASKA, NEVADA, NEW HAMPSHIRE, NEW JERSEY, NEW MEXICO, NEW YORK, NORTH CAROLINA, NORTH DAKOTA, OHIO, OKLAHOMA, OREGON, PENNSYLVANIA, RHODE ISLAND, SOUTH CAROLINA, SOUTH DAKOTA, TENNESSEE, TEXAS, UTAH, VERMONT, VIRGINIA, WASHINGTON, WEST VIRGINIA, WISCONSIN, WYOMING