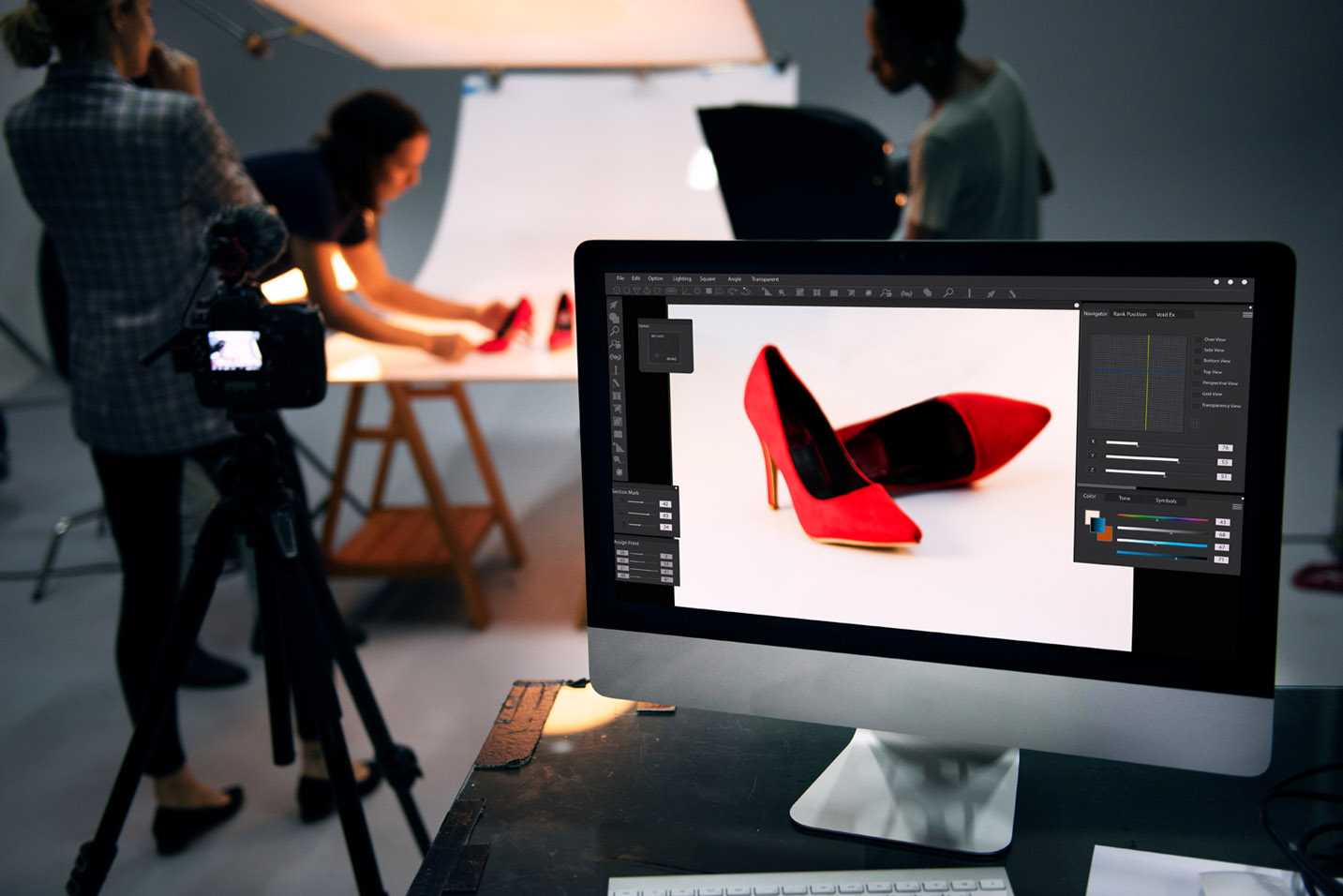 How Professional Amazon Product Photography Can Boost Your Amazon Sales
Amazon offers business owners a wealth of opportunities. Sellers can manage their inventories, reach new customers, and improve their businesses' online presences with the Amazon digital suite for sellers. Savvy sellers can see a dramatic increase in sales by switching to Amazon, but it's crucial to acknowledge the vast amount of competition. Professional product photography can be a tremendous asset to sellers on the Amazon Marketplace and help them stand out among competitors.
Professional Photography Will Set You Apart

Amazon has tremendous reach and completes millions of transactions daily. If you want your products to stand out from your competitors, stunning product photography is a great first step. Palmetto Digital Marketing Group provides clients with robust professional product photography services. People are visual creatures, and most of the information we process and retain is visual, so making a great first impression with your product photography is essential to successfully selling on Amazon.
While some business owners may be tempted to perform their own product photography, it's important to weigh this decision carefully. Amazon has strict requirements for product images. Such requirements include but not are limited to:
Amazon: Product Photography Requirements
PURE WHITE BACKGROUND (RGB 255, 255, 255)
NO ADDITIONAL TEXT OR GRAPHICS
PRODUCTS ARE REQUIRED TO FILL AT LEAST 85% OF THE FRAME SPACE FOR IMAGES
IMAGES MUST BE PROFESSIONALLY LIT
COLOR RESTRICTIONS
EDGE FEATHERING REQUIREMENTS
The average person may struggle to create photos that fall in line with these rules. Doing it yourself might save time and money, but the quality of the photos will likely pale in comparison to what a professional product photography service can offer. Investing in a high-quality camera, photo box, lighting materials, and other photography equipment is only worth it for business owners who are committed to investing in their own personal photography skills.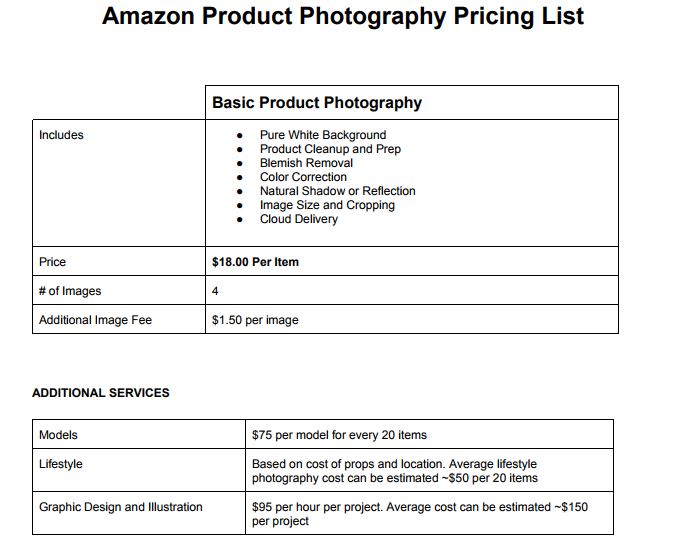 All product is prepped for photography including steaming and cleaning. We request clothing items to be sent in a size small and in new condition. Used items and prototypes are not approved and will not be photographed. Most projects will be turned around within 4 days. Items requiring models and graphic design will require longer completion times. Items can be returned with return shipping labels provided. We hold items for return for 30 days after image delivery. Due to safety and liability, food, medication and makeup items are not returnable and will be destroyed after image delivery. All prices based on studio photography at Mockingbird Studios, location fees and travel costs are not included.
Why Good Photos Matter on Amazon
Visual communications studies show us that people remember about 80% of what they see, but only about 20% of what they read. Images have a huge impact on the buying process for most consumers. The more impressive the photography, the more value the listing conveys to potential buyers. A customer browsing Amazon comparing two different listings of the same product is more likely to make a purchase from the better-looking listing.
Amazon understands this, and therefore sets very high standards for product listings and related images featured on-site. For example, only certain image file types are accepted, and images that fail to meet certain pixel dimensions or focus requirements will be rejected. At-home Photoshop editing and other DIY practices may do the trick for your LinkedIn profile or something posted on OfferUp, but may affect your image quality and cause delays in posting your product on Amazon. Making sure your product image is aesthetically pleasing and technically sound is an area of nuance that sets best sellers apart on Amazon.
Sharper, clearer images will help set a business apart from competitors that may not have invested in professional photography, and the difference will be very apparent. A professional product photography service will take the product size, normal use, and variations into account. The more images a customer has for reference, the more confident the customer will be in the purchase.
Identifying Good Product Photography
Good photography relies heavily on lighting, contrast, scale, and perspective. For example, if you are selling jewelry, your customers will want to not only see how the items look up close, but also how they appear when worn. You want customers to see a product and imagine it being a part of their lives. Professional product photography aims to provide shoppers with the images necessary to properly represent products and encourage sales. A good Amazon listing should include:
Photos of the product and the product packaging.
Photos of the product with other objects in the frame for scale.
Photos of the product's different color options or other variations, such as different sizes. It's a good idea to include a photo with all the different sizing options of a product, so shoppers can easily compare them to find the right size.
With all these photos, lighting and setting are crucial components. Close-up photographs of a product will show detail, craftsmanship, and product features. "Lifestyle" photos will show the product in use, such as photos of models wearing clothes or jewelry, an appliance set up or installed as part of a room, or a pet playing with a new toy listed for sale. Some products require photographs from multiple angles or in different lighting situations, so customers can fully understand how the product looks, feels, and functions.
Palmetto Digital Marketing Group provides clients with a robust range of Amazon product photography services. No matter what type of product you plan to sell on Amazon, our photographers know how to capture the shots that will outshine competitors and inspire sales. Learn more contact us today to find out how we can help boost your Amazon Marketplace sales.
Sources:
https://www.americommerce.com/how-important-is-product-photography-in-ecommerce
Importance of Product Photography When Selling Online
https://www.ignitingbusiness.com/blog/marketing/the-importance-of-good-product-photography
Amazon image rules: https://www.amazon.com/gp/help/customer/display.html?nodeId=200109520
PROFESSIONAL PRODUCT PHOTOGRAPHY CHARLESTON SC, NORTH CHARLESTON SC, MYRTLE BEACH SC, COLUMBIA SC, CHARLOTTE NC, JACKSONVILLE FL, ATLANTA GA, RALEIGH NC, ATHENS GA, TAMPA FL, ORLANDO FL, BIRMINGHAM AL, RICHMOND VA, WASHINGTON DC, ASHEVILLE NC, GREENVILLE SC & SAVANNAH GA, NEW YORK CITY, BOSTON MA, PHILADELPHIA PA, WASHINGTON DC, CHICAGO IL, NEW ORLEANS LA, DENVER CO, AUSTIN TX, DALLAS TX, HOUSTON TX, SALT LAKE CITY UT, SAN DIEGO CA, LOS ANGELES CA, SAN FRANCISCO, CA, PORTLAND OR, SEATTLE WA, MIAMI FL, SAN ANTONIO TX, PHOENIX AZ, BALTIMORE MD, CLEVELAND OH, COLUMBUS OH,
AMAZON PRODUCT PHOTOGRAPHY SERVICES : ALABAMA, ALASKA,ARIZONA, ARKANSAS, CALIFORNIA, COLORADO, CONNECTICUT, DELAWARE, FLORIDA, GEORGIA, HAWAII, IDAHO, ILLINOIS, INDIANA, IOWA, KANSAS, KENTUCKY, LOUISIANA, MAINE, MARYLAND, MASSACHUSETTS, MICHIGAN, MINNESOTA, MISSISSIPPI, MISSOURI, MONTANA, NEBRASKA, NEVADA, NEW HAMPSHIRE, NEW JERSEY, NEW MEXICO, NEW YORK, NORTH CAROLINA, NORTH DAKOTA, OHIO, OKLAHOMA, OREGON, PENNSYLVANIA, RHODE ISLAND, SOUTH CAROLINA, SOUTH DAKOTA, TENNESSEE, TEXAS, UTAH, VERMONT, VIRGINIA, WASHINGTON, WEST VIRGINIA, WISCONSIN, WYOMING