Do you want your amazing products seen by customers? Of course. We all know that the more times your product is seen, the more chances there are for customers to purchase your product. This, in turn, helps you increase sales.
What is Optimization?
In order to have your products seen, your listing needs to be optimized. Optimization is a crucial tactic for getting your products to index or appear when a customer puts in a keyword in the Amazon search box.
In this post, we are going to discuss the most important steps you need to take to get your listing optimized.
When you are working on optimizing your listing, you must deliberately choose keywords relevant to your listing and the search terms customers are using. Know your customer but create it to work for Amazon SEO.

Your listing title, images, and bullet points are of the utmost importance. Let's break these down.
Amazon Product Title: 
When constructing your title, think about your absolute most important keywords and include them. Use proper spacing, and be sure to put the brand name and product name at the front. Keywords used in your title do not need to be repeated throughout the rest of the listing or in the backend. How do you know what your most important keywords are? There are different ways to find out.
Use your brain and think about what other words are similar to your product. A thesaurus can be helpful here.
Go to the Amazon Search Box, type in your product, and see what other phrases shoppers are searching for in the drop-down search box.
Use the search results themselves. Type in your product. Hit search. Look at the other products and their respective titles that come up. See if these have any good keywords you might be missing.
Use a Product Classifier Tool (Helium 10) to search and rank keywords.

Amazon Product Images:
Images should be engaging and accurately show the product. Make use of 3D rendering, closeup and zoomed–in shots, lifestyle images, borders, infographics, and more.
Amazon Product Bullet Points:
Bullet points are very important to your listing; try to keep them informative and to the point. A customer may not want to read a novel about your product, so a direct approach is a good way to go. Bullet points are perfect for brief descriptions of your product.
Backend Optimization:
Now, let's talk about backend optimization. In order to get your listing optimized, there are five different sections you will want to fill out in the backend of your listing.
Search Terms—How you would describe your product, what do customers need to know in order to find your product: *250 characters allowed* Be sure to include important phrases, synonyms, misspellings, abbreviations, alternate names, benefit keywords, problem keywords, solution keywords, attribute keywords. There is no need to repeat words. Enter phrases in the logical order of search.
Subject Matter—What your product is about, think category terms: *50 characters per box* Be sure to cast a wide net to get more views. Spread out your keywords on different lines.
Intended Use—When and Where to use your product: *space is 100 characters per box*
Target Audience—Who would use your product: *space is 50 characters per box* Think about what comes up on the sidebar when you search the product.
Other Attributes—The other important features of your product: *space is 500 characters per box* This might be a good place to list ingredients if you have them.
Also, be sure to note these Amazon prohibited keywords:
Your brand or other brand names
Temporary statements such as "new" or "on sale now"
Subjective claims such as "best" "cheapest" or "amazing"
Profanity or abusive terms
ASINs
Sample Of An Optimized Amazon Listing:
Let's walk through an example with this pair of white sneakers. Let's say this product is selling under my brand Emory's Shoes, and the product name here is White Sneakers.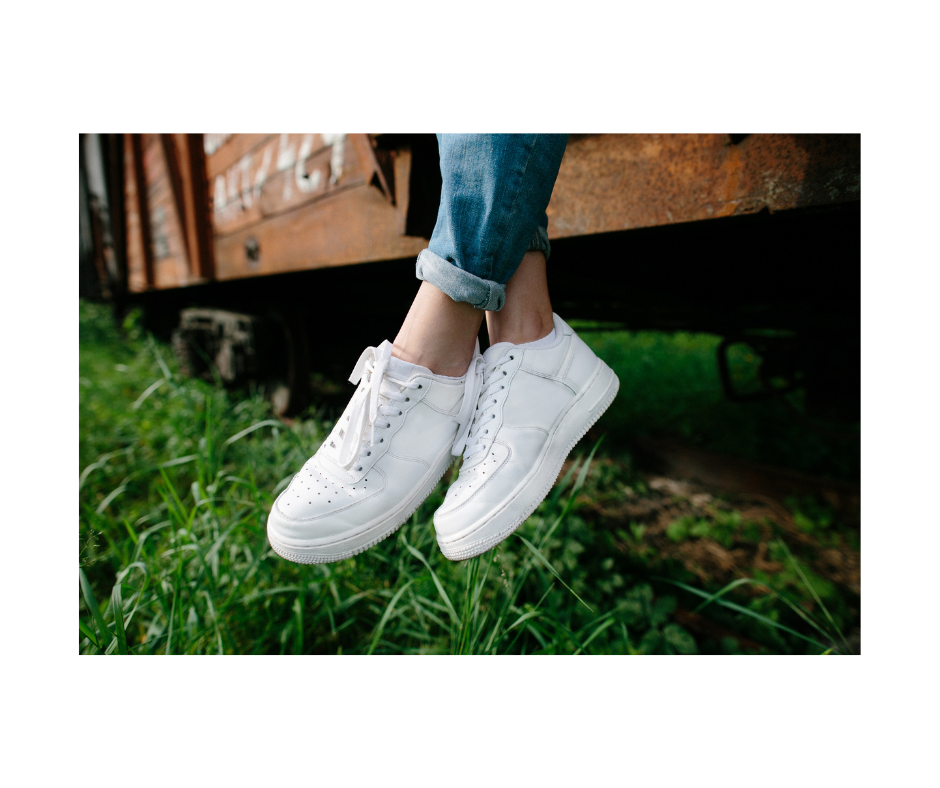 Title:  
Emory's Shoes – White Unisex Sneakers | Everyday Tennis Shoe | Comfortable Footwear for Walking | Lightweight & Lace-Up Style | 1 Inch Rubber Sole
Images: 
Show a variety of images: a closeup shot, an action shot, a size chart, lifestyle images
Bullet Points: 
Made in the USA
Soft, Breathable Lining with 1-inch Rubber Sole and Leather Upper
Easy to slip on and off, light enough to wear all day long and not get hot or tired
A year-round style simple to match outfits with, classic and simple
Run, Walk, Play, Relax- suitable for a variety of activities
Search Terms: simple, modest, classic, modern, light, airy, familiar, clear, off white, soft, lining, appropriate, enjoyable, fashion, casual, stylish, athletic, active
Subject Matter: clothing, apparel, shoes, outerwear, sports equipment, walking gear, outdoor recreation, indoor house wear, footwear, tennis shoes, footgear
Intended Use: inside, outside, street, road, tennis, golf, walking, running, jogging, office, shopping, soccer, basketball, hiking, playing, travel, work, park, sidewalk, winter, summer, spring, fall
Target Audience: men, women, children, adults, kids, athletes, jock, player, competitor, elderly, girls, boys
Other Attributes: canvas, rubber, cotton, flat, sole, padding, canvas, suede, textile, laces, accents, perforation, holes, grip, eyelets, logo, heel
All of this information is important when deciding if your listing is relevant to what the customer is searching for. Here is a list of various tools you can use on Amazon when working on listing optimization:
Brand Dashboard– This tool shows you which search terms are repetitive and which search terms to take out
Brand Analytics Tool– This tool shows you what keywords are ranking for product
Product Classifier Tool– Use this tool to help you come up with category terms for subject matter
Other Optimization Tips:

Structure your product listing relevant to the search terms
Your sheer number of listings does not determine where your product ranks, but it may improve your conversion rate
Search rank is affected by FBA and FBM inventory levels, so it's important to keep an eye on your inventory levels
Having your company brand registered on Amazon can be super helpful
Remember, you are always selling two things on Amazon:
The actual physical product (real value)
The listing itself (perceived value)
People cannot see the real value on Amazon, so you need to prove it within your listing.
Focusing on all these different components of your listing and using appropriate keywords will make your listing optimized. Here at PDMG, we focus on all the tactics listed above for clients, so please let us know if you have any questions.